Apple App Clips
With Apple's App Clips, using iOS Apps will soon be as seamless as using the web. We're T R I M and we can start building App Clips for your iOS App today. Click the button below to begin the process.
iOS 14
Coming Soon
With the launch of iOS 14, which is slated for Fall 2020, App Clips will become a reality.
2m
iOS Apps
There are almost 2 million apps in The App Store today. Finding new apps is harder than ever.
10mb
IN SIZE
App Clips are small but mighty tools that make it easy for users to access your app.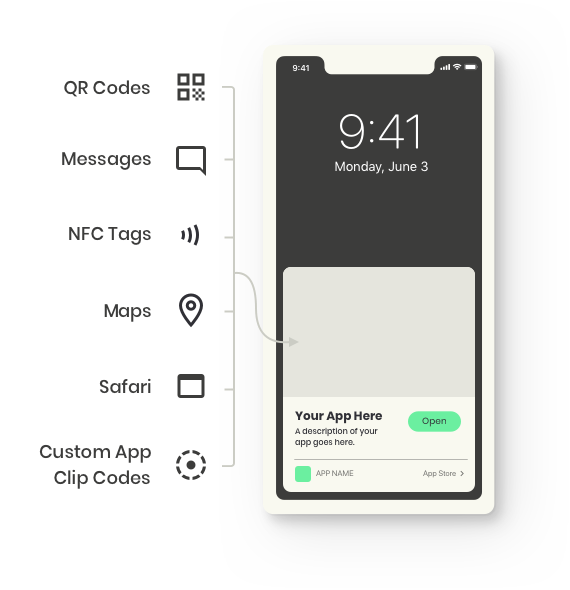 What You Need to Know About App Clips
Similar to Android's "Instant Apps", Apple's App Clips allow users to load a small part of an app on demand. It's all about making apps as frictionless to use as possible. They are quick and get rid of the need to download an entire app from the App Store. When users are done completing a task, the App Clip disappears. For example, if a user wanted to rent a scooter, with an App Clip they could just tap, pay, and ride off. That's much easier than downloading an entire app, creating an account, etc. It's only a matter of time before App Clips are the norm, this is a trend you'll want to get out ahead of. Start building an App Clip for your app today.
hide
What comes next?
We'll kick off your project with a discovery session with our App Clip team. We'll map out your needs and the necessary integrations to build your App Clip. From there, we design the user flow diagrams, wireframe the UX, and prototype in high fidelity. Meanwhile, we bring it to life with code, test it extensively with you, and submit to The App Store. Your customers can use the App Clip via a QR code, NFC, or a link.
Who is T R I M?
We believe that short iterations and close collaboration with real humans is a better way to build products. High velocity and tight feedback loops are vital. Applying this philosophy, we've launched apps with multi-billion dollar companies, and have helped raise millions of dollars alongside first-time founders.
What we've accomplished to date:
SALES GENERATED FROM APPS
Let's do this.
Ready to reach millions of new potential customers? Let's design and build your App Clip together. Click below to get started.