Snapchat Minis
Minis are light weight utilities that live inside of the Snapchat App for you to use on your own or with friends. They're easy to develop and they work on all devices, no installation required.
HTML5
Means Easy to Build
Since they're built with standard HTML5 web technology, Minis are fully cross-platform.
229m
Daily Active Users
As of March 2020, Snapchat has 229 million DAUs globally. 39 million more than the prior year.
3m
Public Snaps
3 million public snaps are posted by Snapchat users every single day.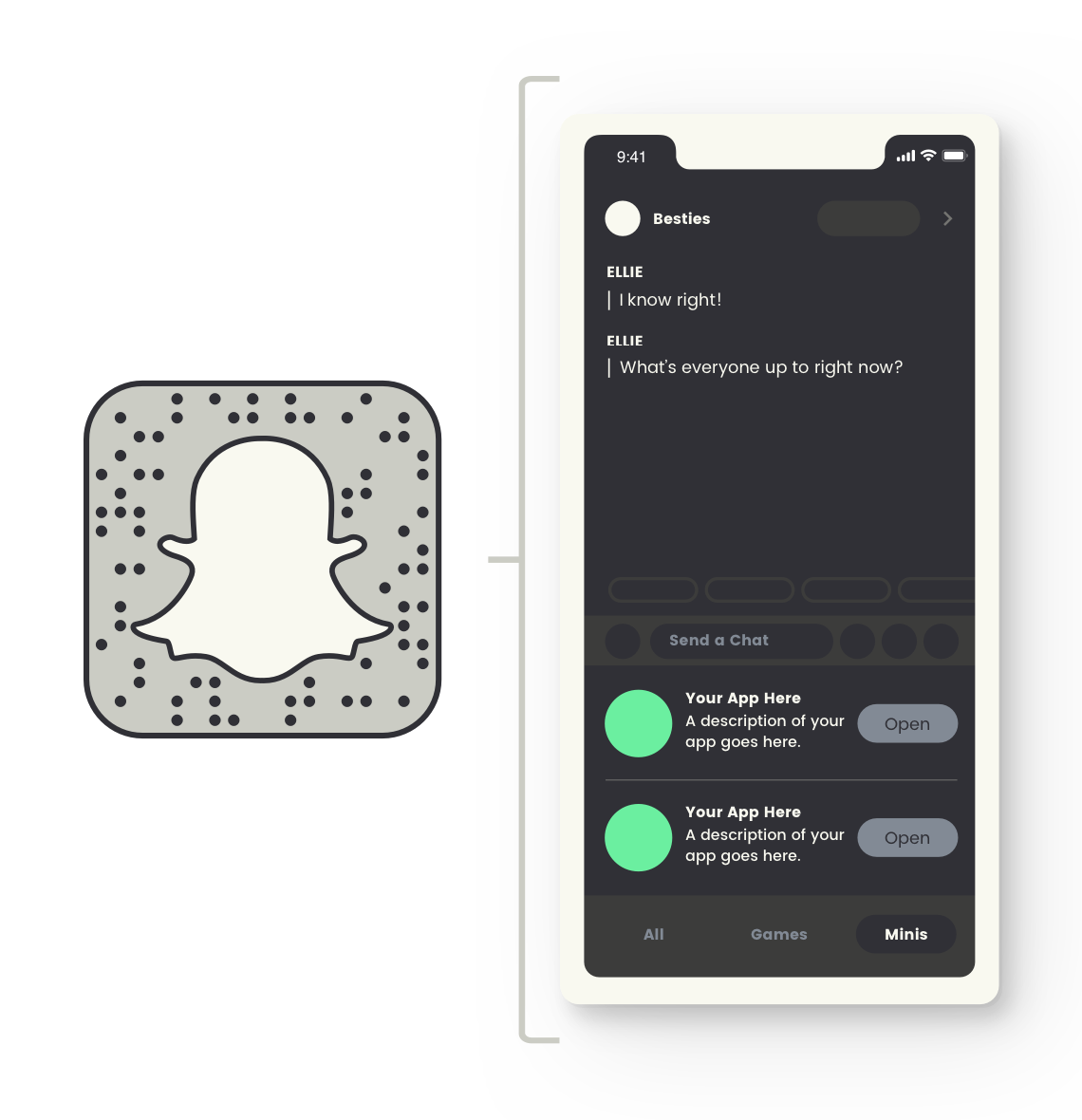 What You Need to Know About Snapchat Minis
Minis are miniature applications made by third-parties that run inside of Snapchat integrated in the chat window. They are built using HTML5 and you can do all sorts of stuff with them. Meditate by yourself with the Headspace Mini, buy movie tickets with friends using Atom, and everything in between. Mini programs like these helped turn WeChat into one of the most popular apps in China. Last year alone, mini programs generated $113 billion for WeChat. Needless to say, Minis are going to be huge for Snapchat as well as the third parties that create them. If you want to get out ahead of this trend, we can start building a Snapchat Mini for your app today.
hide
What comes next?
We'll kick off your project with a discovery session with our Snapchat Minis team. We'll map out your needs and the necessary integrations to build your Mini. From there, we design the user flow diagrams, wireframe the UX, and prototype in high fidelity. Meanwhile, we bring it to life with code, test it extensively with you, and submit to Snap. Your customers can use the Mini right inside of the chat window in Snapchat.
Who is T R I M?
We believe that short iterations and close collaboration with real humans is a better way to build products. High velocity and tight feedback loops are vital. Applying this philosophy, we've launched apps with multi-billion dollar companies, and have helped raise millions of dollars alongside first-time founders.
What we've accomplished to date:
SALES GENERATED FROM APPS
Let's do this.
Ready to reach millions of new potential customers? Let's design and build your Snapchat Mini together. Click below to get started.